Arsenal boss Arsene Wenger has no doubt Jens Lehmann can handle the pressure of the title run-in after his last-minute call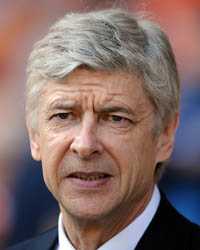 to the veteran on Sunday.
Wenger was forced to throw the 41-year-old, only recently coaxed out of retirement to provide emergency cover, into a must-win Barclays Premier League encounter at Blackpool after first-choice Manuel Almunia was injured in the warm-up.
Wenger, who will have Almunia's fitness assessed on Monday, said: "I was not concerned because I replaced a good goalkeeper with a good goalkeeper."
He added: "He did well. His decision-making was spot on.
"He did not have a lot to do because we controlled the game quite well. He is commanding, organising and an authority.
"We suffered a few set-pieces and on that front he is exceptionally good."
Arsenal were in complete control at half-time, leading after strikes from Abou Diaby and Emmanuel Eboue.
Blackpool responded with their customary zeal, replaying through Gary Taylor-Fletcher after referee Lee Mason allowed advantage when Lehmann appeared to bring down DJ Campbell.
Lehmann was perhaps lucky not to be sent off but Blackpool were more aggrieved that another penalty decision went against them moments later when Laurent Koscielny caught Taylor-Fletcher.
Blackpool, just a point above the relegation zone and desperate for a result, continued to press forward and had further chances before Robin van Persie settled Arsenal nerves 14 minutes from time.