When Mario Balotelli famously remarked three weeks ago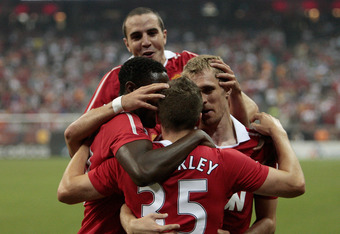 that he had not heard of Arsenal youngster Jack Wilshere, the football world labeled this incident as the latest example of the young Italian's ignorance.  Largely considered the long-term solution to Arsenal's woes in major competitions and the eventual heir to the England captaincy, 19-year old Wilshere seems so talented that not even an arrogant Balotelli could ignore his obvious talent.
While Wilshere continues to soak up media attention for his performances, several Manchester United youngsters have quietly developed into first-class attackers.  Largely disregarded by the football media, their development remains so secretive that Man U fans could be forgiven for not knowing that these youngsters are actually red devils.
I'm speaking not of Javier Hernandez, Nani, or Rooney, but the lesser known trio of Mame Biram Diouf, Tom Cleverley, and Danny Welbeck.  Realizing none of the members of this young trio could secure regular playing time with the first team, manager Sir Alex Ferguson loaned Diouf to Blackburn, Cleverley to Wigan Athletic, and Welbeck to Sunderland.  Earning consistent time for their temporary sides, Diouf and Cleverley have netted three times each in league play, while Welbeck has contributed six goals to his club's campaign.
Having had the opportunity to watch Welbeck and Cleverley during Man U's preseason tour of the United States, I found both to be exceptionally talented players.  Welbeck possesses blazing speed, and after further developing his technical skills, he looks poised to ascend to the ranks of the world's elite goal scorers.  Cleverley is an aptly-named number 10 with the ability to split opposing defenses with cunning through balls and can finish capably, both on the ground and in the air.  I have only watched brief segments of Diouf's performance with Blackburn, but he heads well and seems to possess excellent goal-scoring instincts.
Considering the excellent form of these youngsters and United's current success in both the EPL and Champions' League, there is no reason why Fergie should enter the transfer market this January.  Rumors have linked Fergie with Ajax frontman Luis Suarez and even Real Madrid starlet Kaka.  Though these acquisitions would seemingly enhance United's prospects of capturing both EPL and Champions' League titles, both are unnecessary. With EPL-leading scorer Dimitar Berbatov, an in-form Rooney, and talismanic super sub Javier Hernandez, Fergie already commands one of the best attacks in the world.
In fact, United's top three strikers have been so successful that Sir Alex has recently loaned promising young attacker Federico Macheda to Serie A side Sampdoria.  Selected specifically to replace disgruntled starlet Antonio Cassano, the 19-year-old Macheda will have a glorious opportunity to demonstrate his value and further attract the interest of several of the world's top clubs.
With legends Ryan Giggs and Paul Scholes seemingly set to retire after this season, Cleverley looks certain to secure a regular spot alongside the hard-tackling duo of Darren Fletcher and Anderson in the United midfield.  Macheda, Welbeck, and Diouf face stiffer competition amongst United's star-studded attack, but at age 19, 20, and 23 respectively, they are each still young enough to spend at least another year on loan until a prominent attacking role becomes available.
If Fergie cannot convince each of these youngsters to commit his future to United, he could utilize their projected success to command a hefty transfer fee from overzealous clubs such as Real Madrid, Manchester City, or either of the Milanese sides.  Such funds would prove helpful in recruiting long-term successors to 32-year old center half Rio Ferdinand and 40-year old keeper Edwin van der Sar.
Either way, United will almost certainly continue their current run of domination well into the future.