Liverpool v Arsenal, Anfield
Nothing is won on the first day of the season. Whoever is technically 'top of the league' after the first
round of matches will feel some degree of satisfaction, but the brutal truth is that there will be little indication of how this season's Premier League will pan out for several weeks.  Some players are apparently still fatigued from their summer excess in South Africa, while you can be sure that there will be new faces to add to several squads by the end of the month.
That said, Sunday's clash at Anfield will give a very interesting indication of the season's hopes for both of these Premier League giants.  Rarely do the fixtures throw up a clash which stringently tests two of the biggest sides on the opening day.
There will be many questions that need answering for both sides.  In general terms, has Roy Hodgson got what it takes to mastermind the turnaround that his close season activity suggests he might?  Will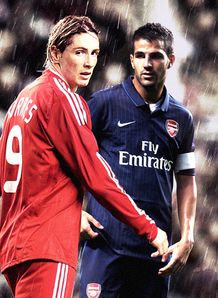 Arsene Wenger finally be rewarded for his faith in youth with a trophy?  In the shorter term, how will Marouane Chamakh adapt to the Gunners side?  Will Fernando Torres recover from a disappointing World Cup?
For great football betting in Nigeria come and play on the fastest growing online sports book, NaijaBet.com
Team News and Tactics
Will Mascherano add his bite to the Liverpool midfield?
Liverpool fans have already had a sneak preview of what is in store, having already negotiated their way through a Europa League tie.  However, the side that beat Rabotnicki over two legs could well bear little relation to the side that takes on Arsenal.  Since that victory, several Reds stars have returned from their break after the World Cup.  Meanwhile, there are questions over whether want-away midfielder Javier Mascherano will play any role.
What is clear is that Pepe Reina will start in goal and Glen Johnson will start on the right of the back four with the old warhorse Jamie Carragher in the centre.  One of Agger or Skrtel will get the nod to partner Carragher, while it is likely that Fabio Aurelio will make a remarkable return to the Liverpool line-up, having been released by Rafa Benitez several months ago.
Fernando Torres is likely to be unavailable with yet another in his catalogue of injuries.  David N'Gog was the goalscoring hero in Europe and although Liverpool fans will still be skeptical of his overall ability, he is likely to start alone up front.
Perhaps the summer's most exciting signing, Joe Cole , will be handed an early taste of the Anfield roar that he said he is relishing.  The big question in midfield will be whether Mascherano is refused a place in the side due to his naked ambition to leave.  If Hodgson does impose his authority, Lucas will be probably line up with Gerrard.  New boy Milan Jovanovic should be handed his debut with the reliable Dirk Kuyt completing a five-man midfield.
How will the Gunners cope without Fabregas and Van Persie?
This fixture may not be the best basis on which to judge Arsene Wenger's side.  Arsenal are likely to be missing arguably their two most important players.  The merits of Cesc Fagbregas have been discussed all summer long and Wenger will be delighted to retain his talents, although he is expected to be unfit for the season's opener.  Similarly, Van Persie returned from injury towards the end of last season and showed what Arsenal were missing, yet he too appears not to be fully fit.
An intriguing question will be who Wenger picks in goal.  The smart money is on Lukasz Fabianski , who seems to have the edge over Manuel Almunia as far as Wenger is concerned.  However, the Polish stopper shouldn't get too comfortable between the sticks as in all probability, reinforcements will be arriving before the transfer window closes.
The back-four should pretty much pick itself, with Bacary Sagna and Gael Clichy patrolling the touchlines.  The impressive Thomas Vermaelen will look to help guide summer signing Laurent Koscielny though his debut.  The Frenchman is likely to get the nod ahead of Johann Djourou,
Up front, Arsenal fans will be eager to see how the powerful Marouane Chamakh fares by himself.
So, expect a five man midfield from Wenger.  It will likely be an extremely attacking selection, with the exception of Alex Song (although Wenger intends on using the promising Emmanuel Frimpong this season).  The remainder of the midfield is somewhat unpredictable, but Arshavin, Samir Nasri , Rosicky and Theo Walcott could make the cut.  Flavour of the month Jack Wilshere is likely to be given a role on the bench at best.
Players to Watch
Arsenal – Marouane Chamakh
The Morrocan striker is Arsenal's biggest summer signing and Gunners' fans will be eager to see him tested properly for the first time.  They shouldn't expect a prolific goalscorer, but in Chamakh, Arsene Wenger has bought a forward full of hard work and endeavour, who will be an awful menace for Premier League defences.
Chamakh will probably be asked to play as a lone striker on Sunday, a role in which he will most likely impress.  However, most Arsenal fans will be more excited by the prospect of the 26-year-old linking up with Robin van Persie, who should benefit from Chamakh's hard work.  There has always been a feeling that if fit, van Persie can consistently be one of Europe's most dangerous strikers.  Chamakh could just be the man to make that a reality.
Liverpool – Joe Cole
Frozen out of Carlo Ancelotti's Chelsea line-up, Cole is a man with something to prove.  He is certainly the kind of player that Liverpool fans should warm to, as he is someone who can unlock defences and really make things happen on the attack.
The question is whether the 28-year-old can produce what is capable of on a regular basis.  Roy Hodgson has not brought him in as a luxury, who might spark to life every once in a while.  The Anfield boss, not to mention the Anfield crowd will look to Cole to be a threat week in week out.  Perhaps consistency is one of the reasons that Ancelotti was prepared to let Cole go.  If he can rectify that, Cole will turn Chelsea's loss very much into Liverpool's gain.
Probable Starting Line-Ups
Liverpool: (4-5-1) Pepe Reina , Glen Johnson, Fabio Aurelio, Jamie Carragher, Daniel Agger , Steven Gerrard , Lucas, Dirk Kuyt, Joe Cole , Milan Jovanovic , David N'Gog
Arsenal: (4-5-1) Lukasz Fabianski , Bacary Sagna, Gael Clichy, Thomas Vermaelen , Laurent Koscielny, Alex Song, Samir Nasri Andrey Arshavin, Tomas Rosicky, Theo Walcott, Marouane Chamakh