Jose Mourinho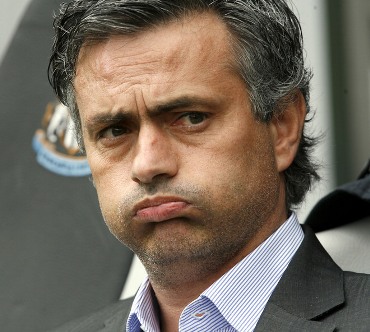 Welcome to the Jose Mourinho page – a tribute to one of the best managers in contemporary football, the self-annointed 'special one' and master of mind games. He is the king motivator, the master baiter, and he has been, for certain periods of his career, the manifestation of God himself (to Chelsea fans who haven't seen better, mind you). On regular days, he plays the Devil with more aplomb and poise (and I dare say reliability) than any other public figure that I've seen.
Now that we've got the compliments and titles out of the way, here's a look at what's in store for you. For one special night only (the night that lasts a thousand nights), you get unlimited access to….
The most 'complete' collection of Jose Mourinho quotes. Yea, take THAT, Wikipedia.
Mourinho has always been a manager that has brought out curiosity (and hate) in managers and fans of other teams- the Portugeezer clearly has talent for the job he does, but his constant shows of cockiness in the press make him a person that interests, amuses and brings out the urge to see him smashed in the b*llocks by those in the football world.
Throughout his time in England, which recently ended after leaving Chelsea 'by mutual consent', Mourinho has been a godsend for press reporters, as nearly every other day they were given a tasty sound-bite to snack on. From Mourinho pronouncing himself 'the special one' upon his arrival, to his recent "eggs and omelettes" quote, there have been quite a few good ones in his time at Chelsea.
For now, enjoy the quotes, and bookmark this page in case you need to come back and get a gem from the Special One's vault of special quotes.
Jose Mourinho Quotes
Jose Mourinho – on Chelsea
"There are only two ways for me to leave Chelsea. One way is in June 2010 when I finish my contract and if the club doesn't give me a new one. It is the end of my contract and I am out. The second way is for Chelsea to sack me. The way of the manager leaving the club by deciding to walk away, no chance! I will never do this to Chelsea supporters." – when asked if success in the Carling Cup final might mean the last trophy he would win for Chelsea.
"We're not the perfect team and I'm not saying we are the best team in the world, but I think we deserve a little bit more respect." – after Chelsea defeated European champions Liverpool 4-1 at Anfield. Mourinho's team had recently been criticised for playing "boring" football
"Everybody is crying that Chelsea keep winning and winning and winning so I think that draw at Goodison Park makes everyone more happy. It gives people more hope and brings to the Premiership what everybody was waiting for." – On the loss of their 100% league record at Everton – October 2005
"Look, we're not entertaining? I don't care; we win." – on Chelsea's performance at the start of the 2006-07 season
"We are on top at the moment but not because of the club's financial power. We are in contention for a lot of trophies because of my hard work."
"I am very happy because the club is beating records with the sales of new shirts. I don't sell shirts but there a relation between shirt sales and the performance of the team. If we perform well they sell more shirts."
"If Roman Abramovich helped me out in training we would be bottom of the league and if I had to work in his world of big business, we would be bankrupt!"
"I am not concerned about how Chelsea are viewed morally. What does concern me is that we are treated in a different way to other clubs. Some clubs are treated as devils, some are treated as angels. I don't think we are so ugly that we should be seen as the devil and I don't think Arsene Wenger and David Dein are so beautiful that they should be viewed as angels."
"This is the start of a process not the end. I want more for me and Chelsea." – On winning the Premiership title – May 2005
"We have eight matches and eight victories, with 16 goals, but people say we cannot play, that we are a group of clowns. This is not right." – On Chelsea's start to the new season – October 2005
"Everybody was waiting for Chelsea not to win every game and one day, when we lose, there will be a holiday in the country. But we are ready for that."
"At the very least we should be given a bit of credit and a little bit of space, and maybe the media should think we could help them discover why English teams do not win European competitions."
"Sometimes you see beautiful people with no brains. Sometimes you have ugly people who are intelligent, like scientists." – On the state of the Stamford Bridge pitch prior to their home Champions League game against Barcelona in 2006
"I don't say we are a defensive team. I say we are a strong team in defensive terms, but at the same time lacking sufficient fluidity in attack because that will take time to come."
"It is like having a blanket that is too small for the bed. You pull the blanket up to keep your chest warm and your feet stick out. I cannot buy a bigger blanket becuase the supermarket is closed. But I am content because the blanket is cashmere. It is no ordinary blanket." – on Chelsea's injury crisis and the end of January transfer window after Ashley Cole was injured in a 3-0 win over Blackburn, 31 January 2007
"After all that has happened this season – and that is a lot – I've reached the conclusion that I am a good loser." – after losing the Premiership title to Manchester United in the 2006/2007 season.
'Everyone in the club must feel we have a good relationship between us. If Mr Abramovich wants to be in on the training session that's fantastic. Or, if at the end of the match he wants to go the dressing room, for me it's great. It's never a problem. – After meeting Abramovich for the first time
Jose Mourinho – on Chelsea players
"Young players are a little bit like melons. Only when you open and taste the melon are you 100 per cent sure that the melon is good. Sometimes you have beautiful melons but they don't taste very good and some other melons are a bit ugly and when you open them, the taste is fantastic… One thing is youth football, one thing is professional football. The bridge is a difficult one to cross and they have to play with us and train with us for us to taste the melon.For example, Scott Sinclair, the way he played against Arsenal and Man United, we know the melon we have."
"Who were (Frank) Lampard, (John) Terry and (Didier) Drogba two years ago? They were certainly not world stars. And in this moment who are they?"
"Makelele is not a football player – Makelele is a slave. He's played the biggest game you can, the World Cup final, and now wants to retire but the coach told us if he is not playing for France, he is not playing for Chelsea. We know the rules. You are a slave, you have no human rights." – Criticising the French Football Federation and coach Raymond Domenech decision to include Claude Makelele in a August 2006, Euro 2008 Qualifier with the problem being Makelele having retired from International Football after the 2006 World Cup.
"Pavel Nedved, Paul Scholes, Luís Figo have all retired from international football. With the Czechs, England and Portugal it is ok, but France? They don't have liberty. It is unbelievable. Makélélé is not a footballer, he is a slave. He has no human rights, no right to choice or liberty, so he is a slave. But the rules are there, so what can we do?" – criticizing France coach Raymond Domenech for calling up Claude Makélélé for Euro 2008 qualifiers, after Makélélé announced his retirement from international football after the 2006 FIFA World Cup. However, rules by FIFA state that players who refuse a selection on their national team could be suspended from their professional clubs. The use of "slave" in Mourinho's press release was criticized by Domenech and France captain Patrick Vieira
"I can tell you now, to stop you (journalists) from asking, that as long as he is not scoring, Shevchenko will play." – on Andriy Shevchenko's goal drought.
"They have to enjoy playing for me and Chelsea but they don't have to be in love with me." – Referring to his Chelsea players
"Ricardo Carvalho seems to have problems understanding things, maybe he should have an IQ test, or go to a mental hospital or something" – After Carvalho blasted Mourinho for not picking him to play
"There are still other things which concern me, not just concern me, but leave me in a very emotional situation, If my goalkeeper dies in that dressing room or in that process it is something English football has to think about, It looks like what I did against Liverpool that 'shut up' was a nightmare, that a player from Manchester City shows half his ass for two seconds was also a big nightmare. I think this is a real nightmare, a real nightmare. I would like somebody to tell me why my goalkeeper was put in this situation for 30 minutes." – Reflecting on the events which lead to the aftermath of the Petr Cech injury on 14/10/2006 at Reading and how the English press reflect on situations that arise at Football matches.
"For example, in my team I love to have Geremi on the bench because he's a low-profile player who is ready to help, ready to fight for the team, ready to do the job I want him to do."
"The team is completely close. Anything you say outside, there is no chance it will go inside. So the team is really strong and compact. We know what we want and how to achieve it on the pitch."
"I don't want special relations with one of them (his players). I hate to speak about individuals. Players don't win you trophies, teams win trophies, squads win trophies."
"It is omelettes and eggs. No eggs – no omelettes! It depends on the quality of the eggs. In the supermarket you have class one, two or class three eggs and some are more expensive than others and some give you better omelettes. So when the class one eggs are in Waitrose and you cannot go there, you have a problem" – Commenting on the lack of fund available to him for strengthening his Chelsea squad.
"Why drive Aston Martin all the time, when i have Ferrari and Porsche as well? That would just be stupid" – When asked about rotating Joe Cole, Arjen Robben and Damien Duff
"Don't tell me one week later that you don't like Harlington, don't like the weather, or the family is not happy in England. I don't want a player who is not totally committed to my methodology." – On pre-season
"When you look now at Chelsea players' CVs it's similar to Porto's players' before I arrived. Nobody won important things. You have two European champions here, Claude Makelele and Paulo Ferreira. But nobody won the Premiership. No one has the taste of big victories." – About Chelsea players lack of success
"I told [Adrian] Mutu, you are already a rich boy, you won a lot of money, you are still in a big contract. So no problem with your future about money, no problem about prestige in your home country. When you go back to Romania you will be one of the kings. But five years after you leave football nobody remembers you. Only if you do big things. This is what makes history."
Jose Mourinho – on other clubs / players
"I would need bodyguards in Oporto. If you visit Palermo, you probably also need them." – Interview before Porto-Chelsea, 30 November 2004
"I saw their players and manager go for a lap of honour after losing to us in their last home game. In Portugal if you do this, they throw bottles at you." – on Manchester United
"You have to wonder why they did that penalty. Because they have so many penalties in the season, that's why. They have to do something special and different." – on Arsenal's penalty mix-up in October 2005
"That was not a football score, it was a hockey score…in training I often play matches of three against three and when the score reaches 5-4 I send the players back to the dressing room, because they are not defending properly" – on the Tottenham vs Arsenal match, which ended 5-4 to Arsenal
"Barcelona have a great club. But in 200 years of history they have won the European Cup only once. I have been managing for a few years and I have already won the same amount." – said during the 2005-2006 season. Barcelona went on to win the Champions League.
"During the afternoon it rained only in this stadium – our kitman saw it. There must be a micro-climate here. It was like a swimming pool." – Before the Blackburn v Chelsea game – 2004/2005
"As we say in Portugal, they brought the bus and they left the bus in front of the goal. I would have been frustrated if I had been a supporter who paid £50 to watch this game because Spurs came to defend. There was only one team looking to win, they only came not to concede – it's not fair for the football we played." – after a 0-0 draw with Tottenham Hotspur
"They believed it was possible. This is the only country in the world where that would happen." – praising Colchester's fans in the FA Cup 2006]
"How do you say cheating in Catalan?" – after Chelsea were beaten 2-1 by Barcelona in a match where Mourinho accused Lionel Messi of getting Asier del Horno sent off.
"A person who works in the club should not work in the FA. The FA is the FA and the club is the club." – On Arsenal and their vice chairman and FA board member David Dein – July 2005
"Barcelona is a cultural city with many great theatres and this boy [Lionel Messi] has learned very well. He's learned play-acting." – After Messi got Asier Del Horno sent off in their defeat against Barcelona in February 2006
"I am more than unhappy. Unhappy is a nice word." – On Thierry Henry's quick free-kick in 2-2 draw – December 2004
"He is someone I respect as a man and as a player. He is the captain of England and has been a European champion. I have never been critical of him and reports implying that are incorrect as I've never made comments about him." – On David Beckham – January 2005
"Look at the blond boy in midfield, Robbie Savage, who commits 20 fouls during the game and never gets a booking. We came here to play football and it was not a football game, it was a fight and we fought and I think we fought fantastically."
"Arsenal have won that advantage, nobody gave it to them. By playing fantastic football and by winning matches and by winning trophies, they won that respect that the opponent has for them."
"Look at the way teams play against Arsenal. They don't believe they can win. They don't believe."
"I may look stupid saying this, but I think we should be going home with three points because we scored two great goals and usually, when you score two and concede one, you win the game." – On the loss of their 100% league record at Everton – October 2005
"I want to give my congratulations to them because they won. But we were the best team. We didn't lose the game. Ninety minutes was a draw and it was a draw after two hours. We lost on penalties." – On losing to Charlton in the Carling Cup – October 2005
"The circumstances are difficult for us with the new football rules that we have to face. It is not possible to have a penalty against Manchester United and it is not possible to have penalties in favour of Chelsea. It is not a conspiracy, it is fact. I speak facts. If not, I need big glasses",
Jose Mourinho – on other managers
"I think he is one of these people who is a voyeur. He likes to watch other people. There are some guys who, when they are at home, have a big telescope to see what happens in other families. He speaks, speaks, speaks about Chelsea." – on Arsène Wenger
"My history as a manager cannot be compared with Frank Rijkaard's history. He has zero trophies and I have a lot of them…"
"When I saw Frank Rijkaard (Barcelona coach) entering the referee's dressing room I couldn't believe it. When Didier Drogba was sent off (after half-time) I wasn't surprised." – On losing to Barcelona – February 2005
"Maybe when I turn 60 and have been managing in the same league for 20 years and have the respect of everybody I will have the power to speak to people and make them tremble a little bit." – On Sir Alex Ferguson – January 2005
"People want a storm but there isn't one. I respect Sir Alex a lot because he's a great manager, but he must follow the procedure. I don't speak with referees and I don't want other managers doing it, it's the rule. One thing is to speak, one thing is to shout." – On Sir Alex Ferguson – January 2005 (a few days later)
"This is nothing against Sir Alex whatsoever. After the game on Wednesday we were together in my office and we spoke and drank wine. Unfortunately it was a very bad bottle of wine and he was complaining, so when we go to Old Trafford for the second leg, on my birthday, I will take a beautiful bottle of Portuguese wine."
"But he is a great manager, he is clever and used his power and his prestige. The referee should not allow it. I have a lot of respect for Ferguson. I call him boss because he is the manager's boss. Maybe when I become 60, the kids will call me the same."
"We were together in my office. He asked me, 'What did you say to the press, young man?' We laughed, we joked, we spoke, we drank and when we go to Old Trafford for the second leg on Jan 26, it is my birthday. I will bring a beautiful bottle of Portuguese wine for after the game. The wine we drank at Stamford Bridge was very bad. And he was complaining about it. He is a wonderful, great manager. I have a lot of respect for the big man. I call him 'boss' because he's our [the other managers'] boss. He's the top man, a really nice person and he deserves to be the boss. Maybe when I am 60 the kids will call me the same." – on Sir Alex Ferguson
"I don't want him to teach me how to lose 4-0 in a Champions League final because I don't want to learn that" – questioning Johan Cruyff after he criticized his team style of play
"I told Mr Ferguson United didn't deserve to leave with nothing". – After Chelsea beat Manchester United 1-0 in Mourinho's first game as manager.
"If they don't touch me, I won't touch anyone. If they touch me, I'll be ready to hit back even harder" – on Ferguson and Wenger
Jose Mourinho – on Liverpool (2005 CL semifinal)
"The linesman scored the goal. No-one knows if that shot went over the line and you must be 100%" – after losing to a contentious Liverpool goal in the Champions League semi-final 2005
"99,99% of the Liverpool fans think they are in the final. They are not." – on the Liverpool fans celebration like they were already through to the final after drawing the first leg in the Champions League semi-final 2005
"They are in the final and from my heart I hope they win it. The night belongs to them and I don't want to criticise them" – on Liverpool in Europe
"I felt the power of Anfield, it was magnificent"
"The best team lost. After they scored only one team played, the other one just defended for the whole game." – on losing to Liverpool in Europe
"It was a goal that came from the moon – from the Anfield stands" – defeat against Liverpool in the Champions League
Jose Mourinho – on "pressure"
"There is no pressure at the top. The pressure's being second or third".
"If I wanted to have an easy job… I would have stayed at Porto – beautiful blue chair, the Uefa Champions League trophy, God, and after God, me."
"Pressure? Pressure what? You cannot put pressure on me." – When asked if Chelsea's dip in form was due to the pressures of leading the Premiership
"Pressure? There is no pressure. Bird Flu is pressure.(The Press Laugh) No, you laugh, but I am being serious. I am more worried about the swan then I am about football."
"Pressure? What pressure? Pressure is poor people in the world trying to feed their families. There is no pressure in football" – speaking in a post-match interview
"I am more scared of bird flu than football. What is football compared with life? I have to buy some masks and stuff – maybe for my team as well." – Speaking soon after H5N1 spread to Britain, and when Chelsea's league lead over Manchester United had slipped to 7 points
"Pressure? Pressure what? Pressure is millions of parents around the world with no money to feed their children." – On the pressure of winning a game after losing twice in a row. Various other public figures paraphrased this quote.
"For me…pressure is Bird Flu…I'm serious the Bird Flu in Scotland is bothering me more." – Said during the week bird flu was discovered in Scotland and Manchester United close the gap at the top of the Premier League to 7 points – April 2006
Jose Mourinho – Philosophy / Tactics
"I intend to give my best, to improve things and to create the football team in relation to my image and my football philosophy."
"If you have at home one Bentley and one Aston Martin, if you go all day everyday in the Bentley and leave the Aston Martin in the garage you are a bit stupid." – Defending his squad rotation policy
"When you just work tactically, in pure football sessions, you can see the way they can think football."
"When you play another team with the same qualities as you normally the best one wins."
"You can have the top stars to bring the attention, you can have the best stadium, you can have the best facilities, you can have the most beautiful project in terms of marketing and all this kind of thing. But if you don't win… All the work these people are doing is forgotten."
"You have to win and especially, as I have, you have to win a trophy for the first time."
"You see how Spanish, Italians, Portuguese play football. I don't say they are perfect, I say English football has a few things to learn from them in the same way they have a lot of things to learn from English football. "
"I'm not a defender of old or new football managers. I believe in good ones and bad ones, those that achieve success and those that don't. Please don't call me arrogant, but I'm European champion and I think I'm a special one."
"The negative side of football. The negative side of our society. People sometimes go to football and bring to it the negative aspects of our society."
"The only thing I would like is to have more control of the game in terms of possession."
"The only thing that we cannot control is our supporters."
"The Porto players were with me for two and a half years, they believed in me, in my methods, in the way we do it. The next day I go and a manager arrives who works completely differently."
"The way I use to develop an aerobic condition is three against three, man to man, in a square 20 metres by 20."
"When I face the media, maybe I don't feel it now, here with you, because it's a different sort of interview, but when I face the media before or after the game, I feel it as part of the game."
"When you go to the stadiums, the atmosphere is so beautiful that maybe you don't feel so much the importance of the game."
"So I know all about the ups and downs of football, I know that one day I will be sacked."
"So if one day the result becomes 3-3, for me it doesn't change my mind, because it's football, it's normal. What is not normal is that we haven't been scoring enough goals playing such good football as we've been playing in the last few weeks."
"And I think because of the passion of every English player and every English supporter, and every English journalist for the game, most of the game is played with passion, love for football and instinct, but in football you also have to think."
"But I think it's more normal for my team to have no success than it is to win two consecutive European cups."
"Especially when you play at home, you need a good atmosphere behind you."
"Facing the press is not easy, but because you have to go, you have to try to take a lot of positive things for yourself from these face-to-face meetings."
"I always feel that with a president, an owner – it depends on the structure of the club and the country – the players generally like to see him."
"I enjoy the work, I enjoy every minute of my professional life."
"I feel I have a lot to learn from English football and I am completely open to good influences in my way of thinking football. But I also have things to give them."
"In England, when people go to football they just go to think about football. Nothing else. They enjoy every second of the game."
"In general terms we must think more about our football and not play by instinct."
"In the same way that I had to follow an Italian manager here, I can imagine that it was not easy for an Italian manager to follow me at Porto."
"There's a history made up by each of us, that leads us to that final victory. It's that history, in it's entirety, that turns us into champions."
"To be the ultimate team, you must use your body and your mind. Draw up on the resources of your teammates. Choose your steps wisely and you will win. Remember only teams succeed." – said on the show Mourinho Ultimate +10
"The moral of the story is not to listen to those who tell you not to play the violin but stick to the tambourine."
Jose Mourinho – The Special One
"Please don't call me arrogant, but I'm European champion and I think I'm a special one."
"We have top players and, sorry if I'm arrogant, we have a top manager."
Jose Mourinho – before Chelsea
"I am absolutely sure that we will be champions next season." – having just moved to FC Porto, January 2002
"In normal conditions, Porto will be the champion, in abnormal conditions, Porto will also be the champion" – in the middle of the Portuguese premier league season
General
"It's not the premiership, it's not the FA cup, it's not the champions league but its still a cup and we must respect it" – speaking about the Carling Cup.
"My family love living in London. It is a fantastic city and a city such as this deserves to host the Olympic Games."
"If I made a mistake then I apologise. I am happy that I'm not going to jail because of that."
"Mr Roth has two ways out, apologise or it goes to court" – on being called the enemy of football
"I don't have a taste for having 10 cars."
"I have loved football since I can remember and I understand the evolution of football and the modern needs of football."
"It's just a haircut." – When questioned about his hair prior to the MLS All-stars vs. Chelsea game – August 2006
"I think the best place to work in football is England."
"I was nine or 10 years old and my father was sacked on Christmas Day. He was a manager, the results had not been good, he lost a game on December 22 or 23. On Christmas Day, the telephone rang and he was sacked in the middle of our lunch."
"In five years I have never had a match where my team has had less possession than the opponents."
"So when they have Mourinho and Benitez joining the Premiership they should say it's good for us, maybe these guys have something new to give."
"Sometimes in Portugal when you play away from home, the atmosphere is very hostile."
"I won't hold back. What I did last season was the consequence of something. So, if the competition is absolutely normal without anything strange, I would love to be a good boy and to behave well."
"I believe in freedom of speech: you make a speech and I'll give you your freedom."
"Would you phone the president of Ghana?" – Jose Mourinho when asked by a Ghanaian journalist if he ever phoned Roman Abramovich to see how he was.
"From here each practice, each game, each minute of your social life must centre on the aim of being champions" "First-teamer will not be a correct word. I need all of you. You need each other. We are a TEAM." (in a letter sent to the players)
"When you have a father, ex-top player, and your dream is to be like him but you feel you couldn't do it, your motivation comes from that point. I want to be really big in football. I feel I have some conditions to be a coach and manager. I start doing. I start loving it. I go to university and study sports science. This is a real passion and methodology." – On his motivation for becoming a manager.
em>"The English press, if you understand their philosophy, it was very funny to play their game. Salt and pepper every day"
Jose Mourinho – Priceless
"The crowd is magnificent, singing "F**k off Mourinho!" and so on…"
"I think you need me to say something that will stop these strange questions. You want me to say 'we are going to be champions'? Well, we are going to be champions. You have something to write now. It doesn't matter about the result against Blackburn or Manchester United, we will be champions." – At a press conference, prior to it Chelsea drew their last two games and individuals started to question his teams early season confidence.
"When I go to the press conference before the game, in my mind the game has already started."
"And when I go to the press conference after the game, the game has not finished yet."
"Is Jose Mourinho the only one who can look at the fixtures and find something very strange?"
"The dog is fine in Portugal – that big threat is away – you don't have to worry about crime anymore." – after the police questioned Jose Mourinho over proper health certification for his dog
Others on Jose Mourinho
"Forget the mind games – I like him. I think he sees himself as the young gunslinger who has come into town to challenge the sheriff who has been around a while. He was certainly full of it, calling me "boss" and "big man" when we had our post-match drink." – Sir Alex Ferguson
"Mourinho has a very strong personality. He is also relatively young, which means he speaks the same language as the players. He's the same person I met eight years ago. His success hasn't changed him. He has a few good friends and he's devoted to his family." – Portuguese agent Jorge Mendes
"He is a very good communicator and can speak to the players in their own language. He is also very well organized. His team allies structure with individual talent." – UEFA Technical Director Andy Roxburgh
"I don't care what he says, I don't listen. I guess when you've invested £500m it's a fantastic season to win the League Cup. He's welcome to his opinions, we care about Liverpool." – Rick Parry, Liverpool's chief executive, talking to BBC Five Live after Liverpool beat Chelsea in the CL semi-final (2007)
"He knows everything about his players – what time they go to bed, what they eat, how long they train. Mourinho wants to control every aspect of their lives." – Neto (Portuguese Journalist)
"I believe that was the most significant day of his life. 'The day he said to himself: I'm going to prove to my mother that I can make a living from football." (After Mourinho quit just one day after he was enrolled in business school by his mother) – Neto (Portuguese Journalist)
"Bobby and Louis were his real finishing school. His real education came on the front line" – Roxburgh (Scottish Football Association)
"José told me he actually prepared his team to play for the silver goal. In other words, how would they play to retain the ball for that [first] 15-minute period. That's what I call good coaching." (after Porto's win in the UEFA Cup final against Celtic) – Roxburgh (Scottish Football Association)
"Usually, he gives many more messages, but he had to be careful because if he had been caught he would have been in trouble. 'José prefers to be on the bench so he can have direct contact with the team. He wants everything – the training sessions, the match reports and the game itself – to be controlled." – Boas (assistant)
Sources:
BBC
BrainyQuote.com
Soccerlens
Who Ate All The Pies
Who Ate All The Pies
WikiQuotes
Wikipedia