Wales caused few problems but Wayne Rooney is often ready to pose difficulties for himself.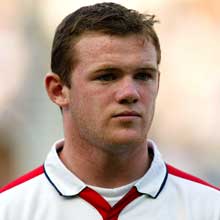 He can churn with frustration even when his team is coasting to victory as England were at the Millennium Stadium. Fabio Capello might remember the afternoon for the booking that will see the forward suspended from the next Euro 2012 qualifier, against Switzerland at Wembley in June. Unruliness in Cardiff undermined any notion that Rooney is fully at ease after all the disruption of the past year or so.
It was remiss of Capello not to remind him of the caution he was carrying into the fixture on Saturday but the evidence that the player would have paid attention is thin. The Portuguese referee, Olegário Benquerenca, had been lenient shortly before a yellow card became unavoidable for Rooney's challenge on Joe Ledley. Considering how sturdy he appears, it seems all the more incongruous that there should be such a volatility of mood.
Rooney is readily distracted or annoyed. At the weekend Capello fielded him a little towards the left in a three-man attack. With Ashley Cole advancing from the full-back position there was no suggestion that Rooney was being cast as a winger. Indeed, as a right-footer, the notion was that he would naturally come into the middle and link with Darren Bent. As in the past this sort of plan did not work.
For a man of such extensive talent, Rooney is less flexible than expected. If, for instance, he is cast as a target man, the frustrations sweep over him because he cannot roam and has to deal with the close attentions of a centre-half. More generally it has been quite some time since he was at ease with England.
In his last 15 appearances for his country he has now scored once, although that goal was valuable since it gave the team the lead in the 3-1 win over Switzerland six months ago. The day will come when Capello needs the full force of Rooney's talents but for the time being it is easy enough to be patient. Since February the goals have started to come for him with Manchester United at least.
There is no tone of crisis while his club and England are each at the head of the table in their respective competitions. Even the caution at the weekend was a source of fun for the humorist who tweeted in the name of his 16?month?old son Kai: "Daddy's been booked. He said that he would be. Now he can come on our summer holiday."
If sixth place in the Fifa rankings looks too high for England, the position of 116th may well be appropriate for Wales. Aaron Ramsey, 20, was appointed captain by Gary Speed but it is little more than a year since the Arsenal player broke tibia and fibula in his right leg. It was natural that the Wales manager should attempt to signal a new start but too much was being required too soon of the midfielder.
At the heart of the game Jack Wilshere thrived for England while Scott Parker was behind him and attended to any defensive duties there. The Arsenal teenager has vast energy to complement technique and imagination. It is folly to think that a thrilling England side has now sprung into being but there were good moments at the weekend.
Welsh hopes were slight and it was imperative that they got the very best out of each man. Instead there was a hint of underachievement even though the team has no points in Group G and is thereby on the same footing as Kazakhstan, Andorra, San Marino, Malta and Liechtenstein.
Speed has to make the most of the assets he has. In that regard it was an error to waste Craig Bellamy on the right, where Cole was a formidable opponent. It did not take long for the attacker, who is on loan to Cardiff from Manchester City, to be switched to the other flank but Wales were 2-0 down by then. James Collins, stumbling, had bundled into Ashley Young and Frank Lampard converted the penalty in the seventh minute.
Young was to prosper and show accuracy with his deliveries from the right. When Glen Johnson sent a magnificent pass to him after 14 minutes, Young's low cross was turned in by Darren Bent. The Aston Villa attacker has now scored in three consecutive appearances for England.
At the level of the qualifiers at least an old-fashioned poacher has true worth. That contribution has helped his side to lead Group G on goal difference from Montenegro. It is a satisfactory position but also one that should prevent anyone from being smug.