In  football, the goalkeeper occupies a position that represents the last line of defence between the opponent's offence and his own team's goal.
The primary role of the goalkeeper is to defend his team's goal and prevent the opposition from scoring a goal.
The goalkeeper is the only player who is permitted to touch the ball with his hands or arms in open play (within his own penalty area).
Each team is required to have a goalkeeper on the field at all times during a match.
Goalkeepers can often be heroes by doing amazing saves, that keep a positive result for their team.
This are the current 10 best goalkeepers in the world.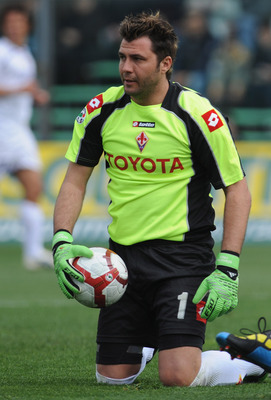 Sebastien Frey (France & Fiorentina)
Frey currently plays for Italian side, Fiorentina.
Frey is showing great form in Fiorentina every season but despite that he didn't find his place in starting lineup in French national team. He only played 2 matches for France's national team.
Frey definitely deserves to play in much bigger and more serious club then Fiorentina.
Hopefully he will make a great transfer in future.
Hugo Lloris (France & Lyon)
His great performances in Nice brought attention of clubs like Milan, Tottenham and Lyon. He was supposed to transfer to Italian giant Milan but he moved to Lyon.
He is currently the first choice goalkeeper for both his club and country.
We will hear a lot from this great goalkeeper in future.
Manuel Neuer (Germany & Schalke 04)
Neur is currently first goalkeeper for both Schalke 04 and Germany national team.
Manuel showed great form in Schalke, which earned him a starting place for Germany on the last World Cup in South Africa, where he was one of the best goalkeepers.
Just like in Hugo Lloris' case, Neuer will show a lot to football fans in future.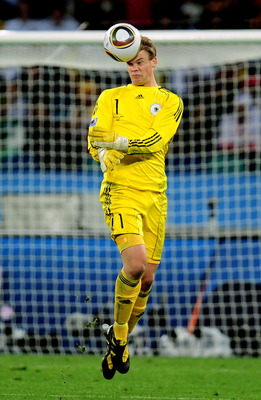 Pepe Reina (Spain & Liverpool)
Pepe is a very good goalkeeper that plays in Liverpool.
Reina has set a number of goalkeeping records for Liverpool, and he won the Premier League Golden Glove award for clean sheets in three of his first five seasons at the club.
Unfortunately, he is not the first goalkeeper of the Spanish national team, as he is blocked by the Spanish hero Iker Casillas.
Joe Hart (England & Manchester City)
Hart is seen as the next premier English keepr by many fans and media alike.
He is regarded as one of the best young goalkeepers in the world whilst being praised by World Cup winning goalkeepers Gordon Banks, Gianluigi Buffon and Iker Casillas.
He is the youngest goalkeeper on this list.
Petr ?ech (Czech Republic & Chelsea)
Petr definitely belongs to this great group.
He currently holds the Premiership record for fewest appearances required to reach 100 clean sheets, having done so in 180 league appearances.
He also holds a Czech professional league record of not conceding a goal in 855 competitive minutes. He previously held a record for the most clean sheets accomplished in a single Premier League season (25), set during Chelsea's 2004–05 title-winning campaign.
On 14 October 2006, ?ech and Reading midfielder Stephen Hunt both challenged for the ball inside Chelsea's penalty area in the first minute of a league match.  Hunt's knee hit ?ech's head, leaving the keeper dazed. He returned successfully and he started to wear a rugby-style headguard.
Maarten Stekelenburg (Netherlands & Ajax)
Stekelenburg is product of the renowned Ajax youth system, where he followed in the footsteps of Edwin van der Sar.
Besides being Van der Sar's replacement at Ajax, he has also replaced him in the Dutch national team, with whom he reached the final of the 2010 FIFA World Cup.
People are wondering when this 28-year-old goalkeeper will move to a club like Milan,Chelsea, or Bayern, but he is definitely loyal to Ajax, and doesn't seem to go anywhere.
Gianluigi Buffon (Italy & Juventus)
Buffon is considered by many fans and experts to be one of most dominant and successful goalkeepers in recent history.
Buffon was declared by Pelé to be one of the 125 greatest living footballers in the world, and has also been named the Serie A Goalkeeper of the Year a record nine times.
During the 2006 World Cup finals, Buffon was in stunning form, as he conceded just two goals and kept five clean sheets, in addition to a 453-minute scoreless streak.
The only goals he conceded were an own goal by teammate Cristian Zaccardo against the United States, and a Zinedine Zidane penalty in the final against France, which ended 1–1 in extra-time and led to a penalty shootout in which neither Buffon nor Fabien Barthez saved a spot kick.
Buffon is for sure one of the greatest goalkeepers in history of football.
Julio Cesar (Brazil & Inter)
In 2009, IFFHS named him as the third best goalkeeper in the world, behind only Iker Casillas and Gianluigi Buffon.
He was also awarded the Serie A Goalkeeper of the Year title in 2009, ahead of Buffon of Juventus and Federico Marchetti of Cagliari.
Thanks to his amazing saves, Inter finally won the Champions League after 45 years.
He is also currently the first-choice goalkeeper for the Brazilian national team, having won 53 international caps.
Iker Casillas (Spain & Real Madrid)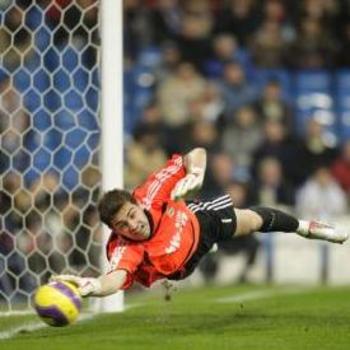 Casillas is a hero of Spain. Thanks to his incredible saves in the last World Cup in South Africa, Spain managed to repeat France's success by winning both the European Championship and World Cup in four years.
As captain of the national side, he led a young Spanish team to their first European Championship in 44 years, his first senior international honour. In 2010, he led Spain to their first ever FIFA World Cup and won the Golden Glove for the tournament's best goalkeeper.
Since bursting onto the scene as a teenager, Casillas has been recognized as one of the best goalkeepers in Europe, illustrated by the many awards he has received.