So it turns out there can be downsides to having three superstar Brazilian forwards. For when you throw in an undroppable Swede, you suddenly have the kind of selection dilemma that can keep you awake at night. And that's exactly the situation Milan coach Massimiliano Allegri finds himself in as his side get set to entertain Real Madrid in the Champions League.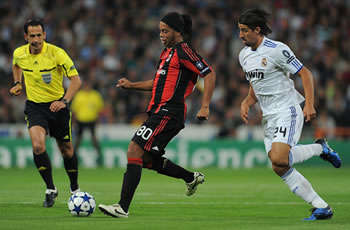 Until recently his quandry was made somewhat easier when choosing between Ronaldinho, Alexandre Pato and Robinho. A simple philosophy of 'last in, first out' saw the summer signing from Manchester City left picking splinters for long spells as the new Rossoneri model started to take shape both domestically and on the continent. But now the landscape may have changed somewhat as Allegri sets out his plans for the biggest game of his managerial career so far.
A decent collection of performances from Robinho during Ronaldinho's injury absence have now shifted attention to the previous incumbents of the two wider attacking positions. Dinho himself had seen his form drop somewhat before he picked up a muscular strain in training days after being a part of the Diavolo's insipid show in Madrid a fortnight back.
Pato, meanwhile, has been a shadow of his former self. Then again, some would say he's actually starting to look twice the shadow of his former self, and maybe therein lies a deeper issue. The young No. 7 has not been in electric form so far this season, and though he has still managed to net four goals in eight senior games to date, those have come by way of braces against Lecce and Chievo. And when he hasn't been contributing goals, it has been difficult to pinpoint exactly what he has added by way of all-round performances.
The addition of Robinho would be a vote for the form guide. Whilst he hasn't been exactly outstanding, the ex-Madrid man has done enough to suggest he is adapting well to life in Italian football. His movement has been a problem for opposition defences, and he has linked well with whichever full-back has been asked to overlap him when he picks up the ball in either channel.
Much of Allegri's decision depends on the formation he decides will be the best with which to take on Jose Mourinho's men. A 4-3-3 with Robinho on the right in Pato's stead doesn't really present itself as a welcome option given Robinho's tendency to pick up the ball from the left and attack from there. But should Allegri once again decide to use a 4-3-1-2, then that opens up two potential spots into which Robinho could fit.
To use the No. 70 in his preferred role would mean leaving out the returning Ronnie and starting Pato alongside Zlatan Ibrahimovic. This has been the formula in the last three games, but there has been something lacking from Milan's forward play in that time. There is always the option of keeping Dinho in the trequartista role and giving Robinho a run next to Zlatan as a centre forward. From here he could be given a little licence, whilst also being asked to contribute higher up the field than he would ordinarily operate best. The most important thing in Milan getting the best of both Robinho and Ronaldinho would be in them not taking good positions away from each other in their eagerness to play their most natural game.
All of which leaves the question of Pato. Can Allegri even contemplate dropping the curly-haired striker for such a huge fixture? And would he come out of it without a huge broadside from his superiors if he made the move and it didn't pay off?
It may well be a significant moment to leave Pato out, but the time has come to address whatever issue it is which has seen the 21-year-old fall short of his previous high standards. And now that Allegri has shown an ability to adapt his formation, this suddenly sees Pato's future as a guaranteed starter thrown into question. No longer does he hold the card of being the only forward comfortable in the right-sided role. He now has to give his coach good reason to choose him ahead of the other candidates to partner Ibrahimovic. And his performances of late have not been persuasive enough.
It would be all too easy for Allegri to now err on the side of caution and once again ask Robinho to sit it out. But if he's serious about taking the game to the European Cup's most successful side, then it might just be time to drop the Duck.?