Carlo Ancelotti has angrily urged his underachieving players to "wake up" after admitting Chelsea had been rendered unrecognisable with fear gripping their play as they endure their worst league run in a decade.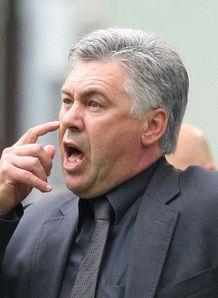 The champions slipped to third in the table with the spluttering draw against Everton on Saturday, their first-half lead eroded by a lacklustre display after the interval that left the manager perplexed and angered on the sidelines. Not since the tail-end of Gianluca Vialli's reign and the beginning of Claudio Ranieri's tenure have so few points been taken from six matches, and Tottenham Hotspur, Manchester United and Arsenal are their next three league opponents.
"We have to wake up from this moment," said Ancelotti, who had publicly questioned his players' desire in the build-up to Everton's visit. "We can move on but what we are doing is not enough. We have to work harder. I have to understand what happened in the second half because it was poor. I'm not happy to see my team play like they did in that second half. We have to change our ideas.
"I don't feel good at the moment. Not just because we drew but because we didn't play well. I was obviously disappointed with the result but I was not happy with the play. We are working to play a kind of football that is totally different to the way we played in the second half – we lost our idea of how to play football and started playing long balls – so we have to ask why this happened. I saw a team that was afraid, scared and unable to play our football, unable to play easy passes. It was just long ball. This is not our aim."
Roman Abramovich was not at Stamford Bridge to witness the latest stumble in Chelsea's title defence but the manager concedes he feels pressure to allay the slump and was not sleeping well as the season threatens to unravel.
"No, I'm not relaxed at all and I don't sleep well. I maintain confidence in my players. I maintain trust. But it's not a good moment, not for them or for me. We have to stay together and not be searching to find out who is guilty. Usually when you have a difficult moment you want to find out who is to blame. It's a moment in which we are all not doing enough to win games. We have to do more because this is the only way that I know.
"I'm not worried about my job. I know we have to play better and get better results. But it's the decision of the club and I don't feel pressure over this. Rather, there are lots of other things to worry about: we are not playing well or having good results, and we are no longer at the top of the table. In my career I have been through lots of difficult moments but I know that the way out of them is to stay together and work hard on the training ground. We still have the time to come back and play our football, to come back and be competitive in the league and in the Champions League."
Ancelotti will play Didier Drogba in Chelsea's final Champions League group game on Wednesday at the Ivorian's former club, Marseille, despite the dead rubber potentially offering an opportunity to rest the striker after his recent bout of malaria. The 32-year-old has long since indicated his desire to return to the Stade Vélodrome among opposing ranks for the first time having scored 19 league goals in 35 appearances in his one season at Marseille before moving to Stamford Bridge for £24m back in 2004. However, while Drogba will travel, John Terry and other senior players may not be involved, with the trip coming too soon for Frank Lampard.