Sir Alex Ferguson said Manchester United could not afford to fear Barcelona after setting up a UEFA Champions League final showdown with the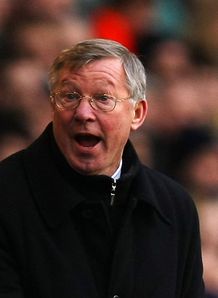 Spanish giants.
United romped into the 28 May showpiece at Wembley after overwhelming Bundesliga outfit Schalke 04 4-1 at Old Trafford on Wednesday with a virtual reserve team, completing a crushing 6-1 aggregate victory. Two goals from Anderson plus one apiece from Antonio Valencia and Darron Gibson fired United into their third Champions League final in four years and a rematch with the team who beat them 2-0 in the 2009 final in Rome.
Barcelona's scintillating form in recent seasons have prompted some commentators to hail Pep Guardiola's team as the greatest club side ever. But while a fervent admirer of the Catalan club, Ferguson insists his team will not be overawed when they meet in the final.
"I don't think we should be going to Wembley lacking in confidence," Ferguson said. "I think Barcelona's form has been very good this season. We're playing a fantastic team. But we can't be frightened out of skins because of that. Their form is there for everyone to see – our job is to find a solution."
"I don't think we should be going to Wembley lacking in confidence."
Manchester United manager Sir Alex Ferguson
Nevertheless Ferguson admitted that he had been anxious for United to avoid Barcelona throughout this season's Champions League and revealed he would have been happy to be playing another club in the final. "I wish it was Brechin City or somebody like that to be honest with you," he joked. "No disrespect to Brechin City – I love that wee club.
"But I think at the start of the season you say 'Stay clear of Barcelona'. Because their form is there for everyone to see. We've done our job well now that our away form has been terrific. We've found a good way of playing away from home. Wembley's not an away game, it's a neutral ground. But I think we'll be quite well prepared."
Ferguson also declined invitations to characterise the final as an opportunity for his players to avenge their defeat in Rome two years ago, when they comprehensively outplayed by Guardiola's pass masters. "Revenge doesn't come into it," Ferguson said. "What does come into is that this is another opportunity for Manchester United to win a European trophy.
"I've always said that other clubs have done better than us, and we should have done better in Europe. You have to admire the way Barcelona play, they play with great style, they've got fantastic players. But we've got a job to do and we'll find a solution.
Ferguson also admitted he would seek advice from Real Madrid coach Jose Mourinho as he attempts to plot Barcelona's downfall. "I speak to him quite a lot and I spoke to him last week. Real Madrid are a different team from us. I think we'll depend on our own knowledge of Barcelona – it's not as if we've never seen them before," Ferguson said. "But the experience that Real Madrid have and from Jose's angle – you always take information from that because he's very helpful that way."
Ferguson steered clear of empathising with Mourinho's suggestions that Barcelona were beneficiaries of a sinister conspiracy to fix European competitions in their favour. "At this moment in time I don't think that's an issue with us. I think a final at Wembley should represent the qualities and histories and traditions of both clubs," he said.
"It's a different set of conditions between Real Madrid and Barcelona because of the tribalism of both clubs in Spain. They've always been the two biggest clubs in Spain and therefore the rivalry is intense. Many things happened in both games of the semi-final that you say to yourself 'Well I hope that doesn't happen at Wembley'. But we think it should be a good final."