Wayne Rooney looks set to miss the Manchester derby next month after Sir Alex Ferguson revealed that the striker's ankle injury could keep him out of action for longer than estimated.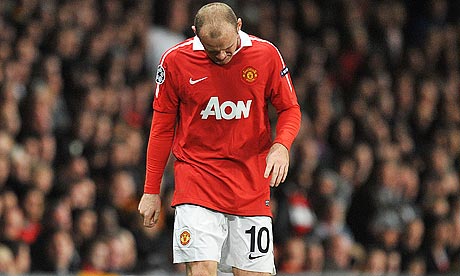 The Manchester United striker, who last week signed a new five-year contract, is currently recuperating in Dubai after suffering the injury in training. When asked this morning whether he still thought the injury would sideline the striker for no more than three weeks, Ferguson said: "I think it may be longer."
Rooney insisted earlier this month that, despite his ankle being used by Ferguson as a reason for leaving him out of the team, it had in fact given him no problems all season. But last week, during an extraordinary few days that ended with him committing his future to the club after previously stating a desire to leave, he did indeed injure the joint in training. Ferguson told the local radio station Key103 at the time that he "will be out for three weeks".
Ferguson said today: "There is no recovery, it is just rest. Before he went away we did his remedial in terms of what we could do at the time. Thereafter, rest – we're quite happy with that."
Ferguson added that Michael Owen will be out for four to five weeks after sustaining a hamstring injury in training.