Roberto Mancini saluted his Manchester City players after their 1-0 victory against Tottenham Hotspur confirmed the club will finish the season in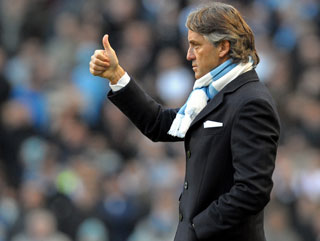 the Champions League places.
A year and five days since Peter Crouch scored the goal that saw Tottenham qualify at the expense of City, this time it was an own goal by the striker from almost exactly the same spot to ensure Mancini's side have their highest-ever Premier League finish.
"I'm very happy because, after many years, Manchester City can now play in the Champions League," Mancini said. "This was always our target.
"When I arrived here, I said that City would become one of the top two or three teams in Europe. This is the first time we have qualified and we deserve it because we have been at the top all season."
The defeat extends Tottenham's miserable run to nine points in ten games and, in all competitions, one win in 13 since beating Milan at San Siro in February.
"It's still been a great season, the best Tottenham have had in God knows how many years," their manager, Harry Redknapp, said. "Last year we finished three points above Manchester City and they spent £130m to get above us – and yet there is not much between the teams."
Yet Redknapp also ventured that City could have the financial muscle to have authentic aspirations of winning the Champions League next season. "The sky's the limit when you have an owner who can spend as much as he likes."
City now have four days to prepare for the FA Cup final against Stoke City. "It means the world," the goalkeeper, Joe Hart, said of their position in the top four.
"If you watched the Champions League this season, Spurs have done brilliantly and it's a shame they can't be there again. But trips to Real Madrid, AC Milan and Inter Milan, what more can you ask for?
"We got this tonight and we now need to give these fans a trophy."
City are currently fourth, which would mean they would still have to go through the qualifying rounds of the Champions League. Their captain, Vincent Kompany, wants to try to take third place off Arsenal, who are two points ahead of City, and qualify automatically.
"We would have to qualify so why not get Arsenal?" he said. "We feel they may drop points."
Carlos Tevez's starting place at Wembley remains in the balance, however, after coming on as an 83rd-minute substitute. "I don't think so," Mancini said when he was asked if the Argentinian would begin the