Tottenham Hotspur manager Harry Redknapp says there has been no contact between himself and Chelsea, despite reports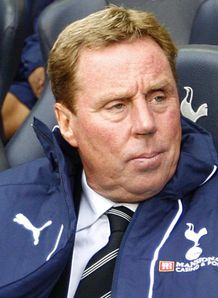 that he is a potential target for Roman Abramovich in the summer.
It was reported at the weekend that Redknapp's success in taking Spurs to the quarter-finals of the Champions League, where they were defeated 5-0 on aggregate by Real Madrid, had impressed the Stamford Bridge hierarchy.
Chelsea could be searching for a new manager with the club destined to end the season without a trophy. It has been reported it is all but certain that Carlo Ancelotti will leave the club, despite winning the Double last season.
However, Redknapp has dismissed suggestions that he could leave White Hart Lane for West London at the end of the season.
"I don't take a lot of notice," Redknapp said. "I just get on with it. It's speculation."
"I've never spoken to anyone from Chelsea. No one's come to me and said that Chelsea are interested in me or anything else. I've got a job to do here. I love it here. I'm happy here."
Redknapp has also settled speculation over the future of goalkeeper Heurelho Gomes, who was guilty of two glaring errors to allow Cristiano Ronaldo to score in both legs of the Champions League defeat to Real.
Though the Brazilian has displayed a capacity for making such mistakes, Gomes has also excelled on occasion and Redknapp has no desire to replace him.
"No. No chance. I've never ever thought about getting rid of him," he said. "I've got no problems with Gomes. He's a fantastic goalie and what he needs now is support. He's made one mistake and he needs support. It's no good people having a go.
"The one thing he doesn't need is what he had when I first got here. He'd make a save and everyone would cheer and stuff. He doesn't need that.
"You need people to realise that he's done a great job here. He's a great goalkeeper and we want him to come out on Wednesday and do what he did last year against Arsenal. He won the game for us. He made saves last year that he had no right to make."