Newcastle United look set to appoint Alan Pardew as their new manager this week. The former Reading, West Ham United and Charlton manager was sacked by Southampton in August this year, but has emerged as the bookmakers' favourite to replace Chris Hughton.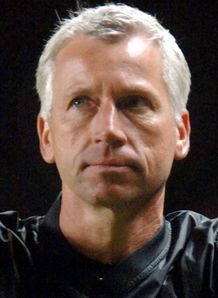 Despite the rumours about Pardew's imminent appointment, he does not appear to have the backing of the Newcastle fans, who made their opinion clear in a poll for the city's evening paper, the Evening Chronicle.
In the poll Pardew attracted only 14 votes when fans were asked who they want as the club's new manager.
Indeed, Hughton, who was sacked on Monday, received more backing in the on-line survey.
There were more than 1,000 responses to the poll with Pardew winning less than 2% of the vote – Hughton managed three times that.
Predictably, Martin O'Neill, who is not thought to be one of the front-runners, was a runaway favourite with a 42.3% share, while Martin Jol attracted 32.8% of the votes before it emerged that his interests may lie elsewhere.
Talks with potential successors to Hughton were ongoing today. The club's owner, Mike Ashley, hopes to have the new man in place by the weekend, when Newcastle face Liverpool.
What is clear is that whoever replaces Hughton will have to work under similar financial restrictions to those with which the former Republic of Ireland international had to deal during his time.
He was one of the lowest-paid managers in the Premier League, and was told in the immediate aftermath of promotion from the Championship last summer that there would be no additional capital outlay on new signings.
Hughton was able to recruit the likes of the Ivory Coast international Cheik Tioté, the defenders James Perch and Sol Campbell, Dan Gosling and loan signing Hatem Ben Arfa, but all on a budget.
His successor may fare a little better, but Ashley is determined to reach the stage where a club which was debt-ridden when he bought it is self-sufficient sooner rather than later.