Lionel Messi says he is still waiting for a DVD with highlights of Pele's career that the Brazilian legend recently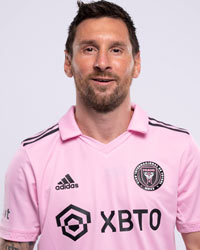 promised him.
Pele said he would send footage of his best moments to Messi after the Argentine revealed he had never seen him in action, but the man widely regarded as the best player in the world is still awaiting the arrival of the package.
"I would love to see Pele in action, but he still hasn't sent me the DVD of his goals," Messi told France Football.
"Everyone says he was an extraordinary player, but I can't form an opinion without having seen him play."
While some observers say Messi could be even better than Pele or Argentine wizard Diego Maradona, the Barcelona star said his first priority is winning more trophies for his club.
"I am not interested in such comparisons and don't play to be the best in the world. I am playing for the good of the team and want to win trophies," he said.
"When I hang up my boots, I want to be remembered as a good player, but I don't care whether I'm the best. I want to be remembered for the titles I won, both with the team and individual trophies."
The 24-year-old attacker is one of 23 players who have made the shortlist for the 2011 Fifa Ballon d'Or.
Messi previously won the trophy in 2009 and 2010 and could become just the second player in history to win the prestigious award three years in a row after Frenchman Michel Platini.