Manchester City manager Roberto Mancini is confident Carlos Tevez – fresh from his brilliant brace on Tuesday – will stay at the club.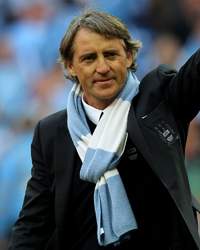 Tevez sent Mancini a reminder of his talents after scoring the first and third goal in City's 3-0 win over Stoke in the English Premier League.
Both strikes were of the highest quality, sandwiching a Joleon Lescott header to put the Blues ahead of Arsenal into third place on the English Premier League table.
And after overcoming a saga earlier in the season that almost saw Tevez leave the club, Mancini said the Argentina international has confirmed – verbally – that he wants to remain at Eastlands.
"He told me like this, that he wants to stay," Mancini said.
"I think every time we are saying – he's an important player, he's an important player. Carlos is Carlos, a fantastic striker and a fantastic player for us. I think he will stay here next season. We don't have a problem "
Mancini was keen to move on to the final game of the season on Sunday – a trip to Bolton's Reebok Stadium – as City look to wrap up third spot in the league.
Achieving that would mean his side would avoid having to qualify for a Champions League group stage spot – a fate now likely to fall the way of Arsenal.
"I think that for us it was important to get fourth position at the
start of the season but in this moment we are third position," Mancini said.
"We only
have one more game. I think there is a difference to play in
qualification or go through in the group. There is a big difference."
Despite his side's second loss in three days to City – who he believes are reminiscent of Chelsea 'four or five years ago' – Stoke manager Tony Pulis said there were plenty of positives to come out of his side's campaign.
With one game remaining, however, he has a final goal in mind heading to their home clash with Wigan on Sunday.
"I think we have a responsibility as a football club – we're in the best league in the world – that we make sure we turn up on Sunday and give it everything," Pulis said.
"We want to finish in the top 10. If we finish in the top 10 and get to an FA Cup final and in Europe next year, it's an extraordinary season for this football club."
"We've just improved and improved and improved over five years. I don't think many clubs can stand up and say, 'Every year, we've got better'. We've done it."
"But we want to make sure we give it a right go on Sunday. I've got a great respect for (manager) Roberto (Martinez) and (owner) Dave Whelan at Wigan. Roberto is a great lad and football man but we'll be trying to win it – desperately trying."