Danish goalkeeper Anders Lindegaard has signed a three-year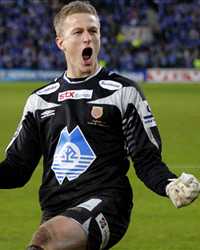 deal with Manchester United worth about three million pounds.
The deal to sign the Denmark international has lifted the pressure on United manager Sir Alex Ferguson.
Ferguson had made the search for a successor to veteran goalkeeper Edwin van der Sar a major priority this season.
Van der Sar, 40, could hang up his gloves as soon as the end of this English Premier League season.
"We've got to prepare for the day when Edwin finally bows out," Ferguson told the club's website.
"I think that's the main reason (we've signed Lindegaard now); to protect us for the future."
"We've completed that deal. All the negotiations are over and he'll join us in January."
Lindegaard, who plays for Aalesunds FK in Norway, has agreed to personal terms and passed a medical in Manchester on Friday.
The 26-year-old will train with United next month, but will be ineligible to play for the club until the transfer window opens in January.
"Anders is one of the brightest young keepers in the game," Ferguson said.
"The challenge at Manchester United is always to look to the future and in Anders, we have signed a goalkeeper of great presence and even more promise."
"Having the time to train with him before he is registered will be an important period for him – almost like a pre season to get him integrated with the other players."
Lindegaard is delighted with the transfer.
"Joining Manchester United is a dream come true for me," he said.
"The club is such an institution in Denmark, it's an honour to come here."
"I'm looking forward to playing and training alongside some of the great players in football today."
"I can't wait to be part of this team and to make my contribution to keeping the team at the top of the game."