Robin van Persie has further ingratiated himself to his manager by declaring his love for Arsenal and particularly their style of play.
The slick pass-and-move football exhibited by Arsene Wenger's team has often been held up as an example for other teams to follow though it could be argued that last season Chelsea at least matched the Gunners, style-wise, as they lifted the Premier League title by scoring 103 goals playing, at times, breathtaking football.
This, however, has not impressed Robin van Persie who believes only FC Barcelona can be mentioned in the same breath as Arsenal.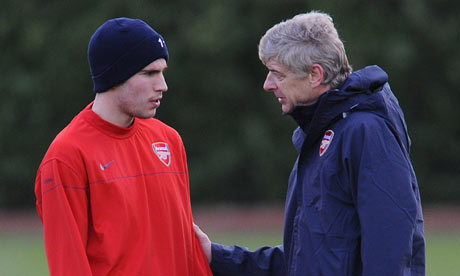 "I love the way of thinking at Arsenal, the way of playing really stands out," said the Dutchman. "I know two teams who play similar football; they are us and Barcelona."
In a thinly veiled reference to other challengers for the Premier League title, he added: "Some teams are trying but not really coming close."
Rival clubs such as Chelsea and Manchester United might like to point out that the ultimate barometer of a team is the amount of silverware it collects and with Arsenal having suffered a trophy drought for five years, van Persie's team can claim only a moral victory at best.
Arsenal's style of play is, indeed, easy on the eye but when they come up against superior opposition it is ultimately futile as demonstrated by their dismantling at the hands of Barcelona in last season's Champions League.
Whereas Inter Milan last year – and Chelsea the year before – succeeded in frustrating the usually free-flowing Catalans, Arsenal laid down the red carpet and invited Lionel Messi and co to do as they pleased.
This is not to say that the Gunners should abandon their style of play but Wenger has to stop being quite so intransigent and occasionally alter his approach in respect of the opposition if they are to win the big trophies.
Otherwise they risk being lumped in the same bracket as that other club who has often stubbornly stuck to the belief that style is superior to substance –  Tottenham Hotspur.
Though, to give Spurs they due, at least they have lifted some silverware in the last three years.