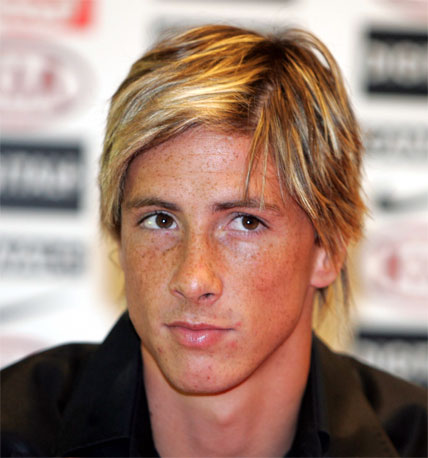 knows what awaits him. The deafening din that erupts within Stamford Bridge when his name is announced prior to kick-off, a discordant tumult of adulation from all sides and rasped chants of "traitor" from those in one corner of the Shed end will testify to the emotion exposed by his leaving Liverpool. Yet, clad in Chelsea blue, the Spaniard will retain his sang-froid. His is merely a job that has to be done.
It was the professional detachment that struck most of all at Torres's unveiling as a £50m player. There was excitement, he admitted, in having forced through and completed his move to London. There were regrets, too, at the perceived broken promises that had tainted his final years as a Liverpool player. But, when it came to loyalty and the bonds from which he had wrenched free at Anfield, he offered only brutal honesty. "I never kissed the Liverpool badge," he said. "I see some players do that one week after they join a club but the romance in football has gone. It's different now. People come and leave. When you join a club you want to do the best for yourself and for that club. That's all. Some people like to kiss the badge. I only want to score goals, do my job and achieve all the targets the team has. We share the same targets."
In that respect, and for now at least, Torres has found a more comfortable home. The Spaniard will never be forgiven for abandoning Liverpool on transfer deadline day but he had departed a club entrenched in a long-term rebuilding programme and embroiled in a hopeless game of catch?up to return to the Champions League. He has joined one who still hope to retain the title and are contenders for the European Cup. The 26-year-old may have won a European Championships and a World Cup, but his honours at club level are limited to a Second Division title with Atletico Madrid, the one club for whom he admits an emotional attachment. The medals were supposed to come on Merseyside; now they might in the capital.
Chelsea had offered him an escape route he could not turn down. He is hurt that he has been portrayed as the guilty party in an ugly divorce, a player who had left Liverpool with no option but to over-pay for a raw replacement, but he will live with the abuse he receives from those he left behind. Torres said he had made it clear to John W Henry and Kenny Dalglish some "10 to 12 days" before the closure of the window, after Chelsea's initial £28m bid, that he wished to leave. "They were pushing really hard for me," he said. "I really wanted to leave Liverpool, so I told them straight. Everything was clear. It's about being fair and honest with everyone."
His desire to leave was steeped in his own sense of betrayal. He felt misled in the last year of the George Gillett and Tom Hicks regime and further frustrated by pledges to strengthen from the now departed chief executive, Christian Purslow, which had gone unfulfilled. "It's not just the last summer, really, but the last two years," he said. "Especially with the old owners. I'm sure players like Jamie Carragher understand my decision. When I was at Liverpool, it was a big disappointment for me when [Xabi] Alonso and [Javier] Mascherano left. But I understood they were moving to other great clubs and needed to do that for their careers.
"Last summer, with the change of manager and the sale process very serious, I was excited about the new season and heard the big expectations. But it's best to be honest about what you can achieve every year. People were talking about Liverpool winning the Premier League or finishing in the Champions League places but maybe the club has to go slowly. Step by step. I could see from the beginning, when we were in the relegation zone with a month gone, that it would not be like that. I wanted to help the team to get out of there and back in the top four, and they're closer now and moving in the right direction.
"The new owner, John Henry, has the right ambition to get things back to what they were, but they need time. Maybe they will need the time while I'm at my best age to play football. I explained my situation to them, my feelings, and was honest and face to face. But wWhen you have an opportunity to play for a team who have a chance of winning the Champions League and the Premier League, and you are the right age to do that and compete with the best, you can't say 'no'. To call me a 'traitor' makes no sense. I played three very good seasons there, and left them with massive money, scored lots of goals and put in good performances. I helped the sale process as well. But I have to think about my career, and this is a step forward."
Steven Gerrard, a player who resisted making this same journey twice in the past, was apparently one of the first of his former team-mates to telephone Torres and congratulate him on the transfer. There is a similar rebuilding process under way at Chelsea as that required at Liverpool, though it may not be as extensive and, critically, it should be carried out while the first-team continue to compete.
Roman Abramovich saw his squad's annual wage bill rise to £172.5m for the financial year ending June 2010, some £40m more than that of Manchester City at the time, and Torres and the £21.5m defender David Luiz have now been added to Carlo Ancelotti's options. There will be further spending in the summer.
The owner's commitment is beyond doubt. "He made a big effort to buy me," said Torres. "The value of players is going down in football, but he paid big money for me because he has confidence in my ability. I know his plans for the future: building a great team; competing with Manchester United, Manchester City, Arsenal, Liverpool and Tottenham Hotspur; fighting to be the best club in England and the best in Europe. And that's also what I want. I've won honours with Spain but, when I'm 40 or 45, I'd like to look back at my careerand see pictures of me as a champion for my club. To play against Liverpool in my first game for Chelsea will be a strange and difficult occasion, certainly emotionally. But I'm excited by this new era that I have in front of me."