Arsenal's Gervinho and Alex Song have been handed three-match bans by the FA for their conduct during Saturday's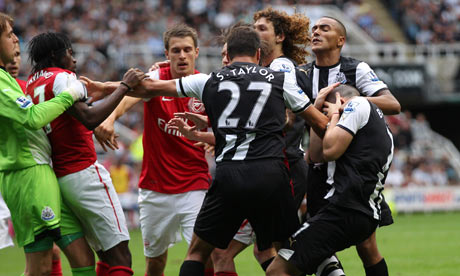 draw with Newcastle United.
Gervinho, 24, was given a straight red card for slapping Magpies midfielder Joey Barton.
Barton was given a yellow card for his role in the melee, as he had initially dragged the Ivory Coast winger off the ground after an apparent dive from the Arsenal star.
Because he had been dealt with during the game, the controversial midfielder has escaped any punishment in the aftermath of the feisty encounter on the opening day of the Premier League season.
Song, however, has been charged with violent conduct and given a ban for stamping on Barton's leg, an incident the referee did not see at the time.
Arsenal have accepted the ban given to Song but will appeal against the severity of the suspension handed to former Lille winger Gervinho.
Because they are not contesting the ban itself they should avoid being handed an extra game on the player's ban for a frivolous appeal.
Instead, the club will likely try and argue that Barton himself has admitted publicly that he overreacted to the slap to try and get the number of games the 24-year-old is out for reduced.
Both the Gunners and the Tyneside club also face charges by the FA for being unable to keep their players under control in the game, which carries a 25,000 pound fine.
Newcastle have denied the charge and their case will be heard by an FA disciplinary commission, while Arsenal are undecided on their course of action.