Chelsea midfielder Frank Lampard will be sidelined for an additional two to three weeks after suffering a muscular injury in training.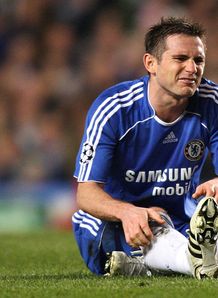 The England international, 32, suffered an injury to his abductor muscle towards the end of Thursday's session, having been on course for a return to action for Chelsea on Sunday against Sunderland following a two-month stint on the sidelines with a hernia problem.
Brazilian defender Alex will also miss the match with a knee injury but Nicolas Anelka is back after missing the midweek win over Fulham with a back injury.
Meanwhile, Ancelotti paid tribute to Ray Wilkins following his shock departure as assistant coach yesterday and stressed it was the club's decision.
"I want to say one thing. Ray was a fantastic assistant coach – I want to say thanks to him because he was a fantastic support last season and this season," said Ancelotti.
"He did a fantastic job and helped me and all the team to win the double, so the first thing is to say a lot of thanks to him.
"He is my friend, I have a fantastic relationship with him and I will have a fantastic relationship with him.
"He knew very well English football and has a lot of experience as assistant. His job he did very well.
"The club made this decision, I think it was a difficult decision for everyone but I have respect for this decision. I have trust in all the staff working with me, and now we have to move on.
"We have to look forward, stay focused on the next game because it is an important season for us and it is important to move on.
"I spoke with the players to tell them the club made the decision, but as I said before we have to move on and stay focused. The players are in focus and will continue to stay focused."