The last time Wayne Rooney and Rio Ferdinand were in the news for a night out in Manchester, it was a good deal more eventful than this.
What a terrible, terrible game.
Sir Alex Ferguson's decision to turn the Champions League into the Carling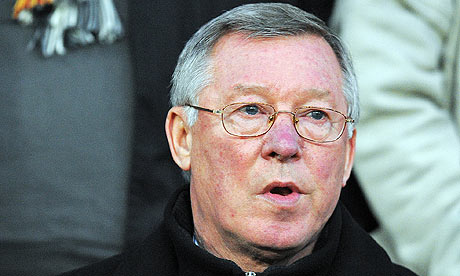 Cup by picking what amounted to a second string side not only killed this as a spectacle but also cost his side two points.
It was 85 minutes before United even managed to earn a corner.
Clearly, Ferguson had one eye on what represents a far more demanding challenge when Liverpool come here to Old Trafford on Sunday.
With Chelsea already four points ahead in the race for the Barclays Premier League and entertaining Blackpool this weekend, there is a sense that the pressure is on.
But dropping points in this competition when three should have come easily to United will disappoint Ferguson on a night when Valencia, the team they travel to next, kicked off their campaign with a thumping win in Turkey.
Ferguson under-estimated Rangers and their ability to deliver a well-organised, defensive display under the guidance of Walter Smith while also posing some threat on the counter-attack in the form of players like Steven Naismith.
They are a vastly inferior team on paper, but when presented with a United side missing 10 of the players that started at Everton last weekend, Rangers obviously fancied their chances.
Afterwards Ferguson defended his team selection, pointing to the fact that eight of those he picked last night beat Chelsea in the Community Shield last month.
'It shows the quality of our squad,' he said.
But the organisers of this competition are unlikely to see it that way.
No, Michel Platini and his colleagues at UEFA will see this as a worrying development; a night when Europe's illustrious competition was devalued by the attitude of a big team towards a little team.
Not that Ferguson is at fault for that.
The expansion of the competition does mean the group stage often struggles to excite and inspire but Platini is unlikely to respond accordingly.
A return to the old European Cup format, with knock-out matches from the start, is the answer but that would mean fewer games and with it less cash in television revenue and gate receipts.
Instead, UEFA will live with matches like this. A match that made a mockery of its Battle of Britain build up and one that surely left those who made the effort to come and watch feeling rather short-changed.
Even the stadium announcer sounded unconvinced when he declared it 'the first group stage of the Champions League' as the players emerged from the tunnel.
By the end, United had other concerns. Most notably the welfare of Antonio Valencia, who suffered the kind of ankle injury that could well keep him out for the remainder of the season.
It was so bad Sky chose not to show replays, but the face of a distressed Kirk Broadfoot told its own story. It was horrific.
Valencia was actually one of the few United players who showed any real desire to take the game to Rangers, which in itself gives Ferguson something of a selection headache ahead of the weekend.
He accused those responsible for the draws at Fulham and Everton of being 'careless and wasteful' but those who he turned to last night did not exactly press hard for inclusion.
While Ferdinand probably had the kind of return to first team football he was looking for after that long injury lay-off, Rooney was most disappointing.
Ferguson might have expected him to return from a weekend off with a bang, but no such luck. United's finest player was nothing like as impressive as he was for England last week.
Rangers were rather negative in their approach, with Kenny Miller so isolated at times in attack he would have been forgiven for thinking his team-mates had gone to play elsewhere.
But it was David Weir, the 40-year-old captain of Rangers, who threatened first with a header and only rarely did United pose any kind of danger at the opposite end.
They managed just three shots on target and even then failed to test Allan McGregor.
Lacking the fluency and urgency Ferguson would have demanded, they too often resorted to shots from distance.
Darron Gibson probably went closest, unleashing a series of drives that looked good but achieved nothing.
When Rooney had an opportunity in the 21st minute, he was certainly guilty of being wasteful.
Suddenly clear and presented with a choice of passing to a fast-advancing Javier Hernandez or having a go himself, he succeeded in neither and instead delivered the ball to the feet of a most grateful Weir.
Ferguson glanced to the heavens in exasperation.
The sight of McGregor collecting a booking for time-wasting before half-time only added to the sense of frustration, as did another fine strike from Gibson that drifted narrowly wide.
There was a late penalty appeal from Ryan Giggs when he claimed Madjid Bougherra had handled while on the ground.
So unconvinced was referee Olegario Benquerenca he actually booked the Welshman for dissent.
But before Giggs feels too aggrieved, a penalty could have been awarded to Rangers prior to that for Chris Smalling's challenge on Broadfoot.
It was Broadfoot's relatively inoccuous challenge on Valencia that left the United winger nursing a broken and dislocated ankle and turned a bad night for United into a thoroughly depressing one.