Corinthians have made an improved offer of £40m for the Manchester City striker Carlos Tevez in the hope of concluding a deal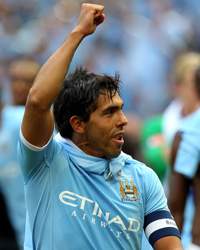 before the Brazilian club's self-imposed deadline of Sunday night.
City have been asking for £50m and turned down a £35m bid from Corinthians last week. Although the Premier League club have indicated a willingness to compromise, the suggestion before the latest offer was lodged was that £40m would not be enough to conclude a deal.
Corinthians have described their latest bid as a final attempt to sign Tevez and City will have to be swift in deciding whether to do business with them because the Brazilian transfer window closes on Wednesday.
So far no clubs in Europe have made a formal offer for the Argentina striker, who is desperate to leave Eastlands, although Real Madrid retain a keen interest.
City will not countenance a loan deal – similar to the one that allowed Robinho to join Santos in 2010 – for Tevez, who has indicated that his preference is to rejoin Corinthians, where he played before moving to England.
Selling Tevez to a Brazilian club would avoid him playing for one of City's competitors in the Champions League.
Sheikh Mansour, the City owner, is content to retain the unsettled Tevez at the club for another season if his valuation of the 27-year-old is not met but he is mindful that Roberto Mancini, the manager, would prefer to sell Tevez.
Andrés Sanchez, the Corinthians president, claimed on Friday that Juventus had entered the race to sign Tevez by lodging a £45m bid, although that was denied by City. The South American side have increased their offer despite saying last week that they would not go above £35m and Tevez, the Premier League's highest-paid player on £250,000 a week, appears willing to accept a cut to his wages to return there.
If Tevez leaves, City are likely to move for another Argentinian striker, Sergio Agüero, who has suggested that he would like to leave Atlético Madrid for Eastlands. The 23-year-old is viewed by Mancini, the City manager, as the best replacement for Tevez, although the club will have to meet his release clause of £38m.
Agüero told the Argentinian station Radio La Red: "I have made clear in my statement that I do not see myself at Atlético. I will seek the best for me, I know that my representatives are working and for now I don't want to think about it. I will do something after the Copa América, when I am able to think calmly.
"But if I said I saw myself at Atlético, I'd be lying. I'd prefer to play in Spain or England – those are the two best countries. I have given everything for the shirt and I have had a lot of fun but as far as my future is concerned, don't bet on anything."
Beyond Agüero, José Mourinho, the Real manager, is thought to favour a permanent move for Emmanuel Adebayor, who spent five months on loan at the Bernabéu from City last season, and is unsettled at the club.
Shay Given is one player who appears certain to leave Eastlands. The Irish goalkeeper is closing in on a move to Aston Villa after he failed to make a single Premier League appearance last season. Shaun Wright-Phillips, the City winger, is also reportedly interesting Alex McLeish, the Villa manager.
Yaya Touré, meanwhile, stated that City expect to win the Premier League next season. The midfielder told the club's website: "The new season will be very, very hard and we need to improve, because this season the club will play in the Champions League [for the first time]. We expect to stay in the top four of the Premier League and we expect to win the Premier League because now we are coming with more confidence, the players know each other better. I think this year will be fantastic for us."
Touré, who scored the winning goals in the semi-final and final of the FA Cup, expects his brother, Kolo, to make a successful return to playing action after his six-month suspension for failing a drugs test. He said: "Kolo's well. He's in New York with the family. We hope September will come quickly and we hope to help the club win something again next year."