Chelsea's spending in the transfer window may not be limited to the imminent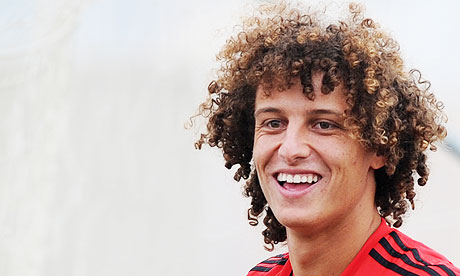 arrival of David Luiz from Benfica, with the club considering strengthening in other areas if they receive encouragement that long-standing targets have become available.
Negotiations between the Premier League champions and the Benfica president, Luís Filipe Vieira, continued today with sources in Portugal suggesting the make-up of the proposed deal was still under discussion.
Chelsea had hoped to pay around £21.5m for Luiz and to loan one of their promising young players – Jeffrey Bruma or Patrick van Aanholt had been mentioned – to the Portuguese club until the end of the season in exchange.
Benfica, however, are insistent that any makeweight should join on a permanent basis and, as a result, Chelsea are considering meeting the Portuguese club's revised ¤30m (£25.5m) valuation in a straight cash deal. That offer would be acceptable to Vieira for the 23-year-old centre-half, who would become the Londoners' most expensive signing since Andriy Shevchenko moved from Milan for £30m in the summer of 2006.
An application for a work permit is due to be heard on Wednesday, offering an indication of how close a resolution in negotiations is. Although securing Luiz would represent a significant statement of intent and a timely backing of Carlo Ancelotti as manager, Chelsea could re-enter the market over the remainder of the month to supplement a squad that has appeared paper thin at times this season.
An attempt was made last week to secure Steven Pienaar from Everton, the player eventually opting to move to Tottenham Hotspur, but, with qualification for the Champions League imperative, other targets may be pursued.
A list of potential signings has been drawn up in discussions between Ancelotti and the Chelsea hierarchy, with players such as Ajax's defender Gregory van der Wiel, the Anderlecht forward Romelu Lukaku, the Stoke City goalkeeper Asmir Begovic and the forward Alexis Sánchez of Udinese thought to be under consideration. Ancelotti has also been a long?standing admirer of the Roma midfielder Daniele de Rossi.
Gaël Kakuta, another youngster who had attracted interest from Benfica, is expected to join Fulham on loan until the end of the season to further his own development. Chelsea recently tied the Frenchman to a new long-term contract at Stamford Bridge and will not entertain thoughts of allowing him to leave on a permanent basis