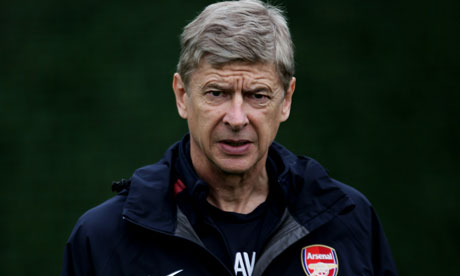 The Arsenal manager, Arsène Wenger, is confident his side can get a result at Stamford Bridge. Photograph: Dean Mouhtaropoulos/Getty ImagesWhen Arsène Wenger reaches for a statistic to reinforce one of his arguments, it is always wise to check it. Bitter experience has taught us that the Arsenal manager is not always absolutely spot on in such matters. And so when, in the context of Chelsea's recent dominance over his team, Wenger brought up that Arsenal had beaten their London rivals more times than they had lost to them over the past 10 years, the assembled journalists were sent diving for their record books. Or logging onto Google.
It really did not sound right but it turns out that in 30 matches in all competitions Arsenal have won 10 to Chelsea's 10, with the rest ending in draws. And given that one of Chelsea's victories came in the 2005 Community Shield, Wenger emerged on safe ground.
Scratch deeper, of course, and the detail that only two of Arsenal's wins have come in the past six years – the period in which Chelsea, backed by Roman Abramovich's largesse, have established themselves as one of the Premier League's twin powerhouses – highlighted one reason why the west London club will start Sunday's eagerly awaited Stamford Bridge derby as favourites. The old adage about lies, damned lies and statistics sprang to mind.
Here is another set designed to force Wenger on to the defensive. Pound for pound and inch by inch, Chelsea's players are, on average, three inches taller and almost two stone heavier than their Arsenal counterparts. In boxing terms that amounts to between three and four weight divisions.
The conclusion that is regularly drawn, supported by recent results, is that Chelsea have the capacity to bully Arsenal into submission. A glance at the Chelsea teamsheet reveals hugely imposing figures such as John Terry, Branislav Ivanovic, Michael Essien and Didier Drogba. Where are the men in Arsenal red to match them?
This time it was Wenger's turn to look deeper and attempt to convince his audience that such figures meant nothing when the game's subtleties and complexities were taken into account. Wenger has long extolled the merits of brains over brawn and he continued to pin his hopes on his players' fleetness of foot and mind.
"How can you explain why Spain won the World Cup and Barcelona beat Chelsea in the Champions League [in 2009]?" he said. "Football is not only down to physique. It's down to intelligence, technique, mobility – there is not one way. That's what makes it interesting. Last weekend did Drogba score at Manchester City? No, he didn't and he played against Kolo Touré. When Kolo played for us, you said he couldn't handle Drogba. Suddenly, when he moves to Man City, he's stronger.
"I feel anyway we should not make an obsession of one player of Chelsea because they have a few who can score goals. What is important is that we have the ball, that we dominate the game and that we are efficient defensively. We can do it."
Wenger's mention of City was not restricted to their game against Chelsea, which they won 1-0. City are following the Chelsea blueprint to modern-day success, installing a money-no-object benefactor to provide a massive injection of capital. It does not matter that huge debts have numbered among the by-products.
As it did when Abramovich opened his chequebook to bully the rest of the league financially, City's methods have provoked disdain in Wenger. He looked forward to Uefa's new regulations on balanced books kicking in from next summer and he suggested that he expected Michel Platini, the Uefa president, to uphold his threat to expel the clubs who were deeply in debt from European competition. "We would be happy if the rules came in tomorrow morning," Wenger said. "After that we trust Uefa. Platini looks to be very strong-willed on the subject and he has my complete support."
Wenger, though, was more interested in the possibility of striking a blow against a major rival on the pitch. He will go to Stamford Bridge without a host of injured players, including the captain Cesc Fábregas, Robin van Persie, Theo Walcott and Thomas Vermaelen. It will be a big game for the summer central defensive signing Laurent Koscielny against Drogba; ditto, the goalkeeper Lukasz Fabianski, who continues to deputise for the injured Manuel Almunia. Yet Wenger exuded confidence.
"It is vitally important to win the big games," he said, "and the confrontation will certainly give an indication of the strengths of the two teams. It's easier to play Chelsea now, after they have lost two games [to Newcastle United in the Carling Cup and to City]. Every defeat makes you just a fraction smaller."