Former Chelsea manager Carlo Ancelotti has hinted at a return to management in the English Premier League.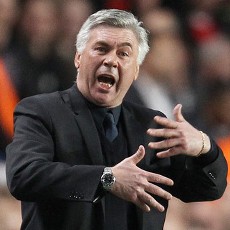 The Italian was sacked as Chelsea boss just hours after a 1-0 defeat to Everton in May despite winning the league the season before and finishing second to Manchester United at the end of the 2010/11 campaign.
The two-time Champions League-winning boss with AC Milan said he would love to return to England but would pursue other avenues if a senior coaching role did not materialise.
"I would like to (stay in England). We will have to wait and see. I am using this time to improve my knowledge. I will wait," Ancelotti told Sky Sports.
"I would like to stay here, but if it is not possible I will find another solution outside of this country."
The 52-year-old led the Blues to league and FA Cup glory in the first of two seasons in charge of Chelsea but has been out of work since his sacking in May.
The former Juventus and AC Milan boss has since been replaced by 34-year-old Portuguese manager Andre Villas-Boas who has so far guided the team to fourth in the Premier League after 11 games.
Ancelotti also paid tribute to former rival Sir Alex Ferguson after the Scot celebrated 25 years in charge of Manchester United.
"I like Ferguson because I think that he is a good man for football," he said.
"Not just for the Premier League, not just for England, he's a good man for football in the world."
"He has a good image and obviously we were rivals but in this moment we are good friends and I like him as a man."